So here we go into Lockdown 2.0.
If you are one of the businesses that are remaining open then it is crucial you are not only prepared for the upcoming month but also ensuring your customers and staff are protected into 2021.
At TAG-Online we have all the essentials you need to ensure you are 'Covid Compliant', from face masks, visors and screens through to specialist hand sanitising equipment and new screening equipment.
Today we are focusing on some of our most popular products.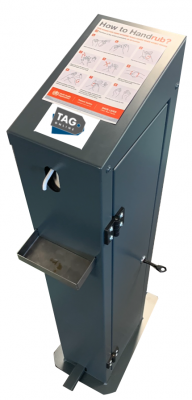 Foot Operated Hand Sanitiser: It is easily adjustable to suit most bottle sizes, s

pace saving, p

roven stability using the TAG Queue Post as the base, p

erfect for use indoor and outdoor and is i

deal for offices, workshops, construction sites, factories, showrooms and more…                        



5L Foot Operated Hand Sanitiser: The unit takes any 5L containers, is operated by a foot pedal, features a lockable storage section ideal for 

another

 5L bottle, the pump action is adjustable for a variety of pumps, is fixable to the floor and also has a rear roller for 

manoeuvrability and is powder coated for a better more durable finish.

Infection Control Station: 

This Infection Control Station is easy to manoeuvre around any location enabling users to clean up areas. Coming in flatpack form it is easy to ship and more importantly is easy to construct. 

Powder coating in any colour is available from £15 per unit and depends on the colour chosen.

ECO Foot Door Opener: This innovative product allows your staff, customers or anyone to enter and exit rooms without the need to touch the door. They are easily fitted to any non-latching door with two screws (included) and are a great way to avoid germs, bacteria, or viruses that may be on public doorhandles, open doors while both of your hands are full and to prevent cross contamination.
View our full COVID-19 range here.
If you have any questions about our products, how they can help you, your business or if you would like to discuss larger orders then our team is on hand to go through things with you.
Call 0330 1281 247 or email sales@tag-online.co.uk.
Useful product links:
5L Foot Operated Hand Sanitiser